Home
Welcome to American Coaster Enthusiasts Western Great Lakes region website.
Western Great Lakes region encompasses Wisconsin and portions of Illinois. If you would like more information on American Coaster Enthusiasts or the Western Great Lakes Region please check out the About page.
CASTING CALL FOR WISCONSIN DELLS WATERPARK SUPERFANS
Hey all!

My name is Nick Stubbs and I am a Casting Producer here at Magilla Entertainment, a TV Production Company located in New York City. We have produced shows such as Long Island Medium, Moonshiners, Warped Roadies, and Beachfront Bargain Hunt.

We are currently producing a new series entitled The United States of Amusement. Over the course of 6 30 minute episodes, we will travel to different regions of America and examine three niche parks within each region.

One of the regions we will be visiting is the Wisconsin Dells area (Noah's Ark, Mt. Olympus Waterpark). We are looking for superfans within the area to represent these parks.

They should be between the ages of 20-40 and enthusiasts of the sort.

Please give me a call at (212)727-2420 ext.108 or send me an email with your name, story, picture, and contact information to nstubbs1212@gmail.com.

Thanks again!


--
Nick A. Stubbs
Magilla Entertainment
O:(212)727-2420 ext. 108
C:(201)572-2223
nstubbs@magilla.tv
nstubbs1212@gmail.com

Opening Days for the ACE WGLR regional parks!!
Bay Beach – May 3rd, 2014
Six Flags Great America – May 3rd, 2014
Santa's Village Azoosment Park – May 11th, 2014
Donley's Wild West Town – May 17th, 2014
Noah's Ark – May 24th, 2014
Little Amerricka – May 24th, 2014
It's official. Coming in 2014, Six Flags Great America will introduce a brand new triple-record-breaking wooden coaster that will be the new staple of the park's skyline. This giant new beast will feature impressive heights, astonishing speeds, and stomach-tightening inversions: Goliath will be the world's fastest wooden coaster with the tallest and steepest drop, plunging riders down 180 feet and rocketing through twists and turns at 72 miles per hour.

Upcomming Events
---
Highlights:
---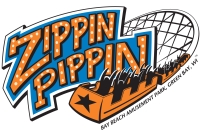 Show your support for Bay Beach and Zippin' Pippin' at Bay Beach in Green Bay, Wisonsin Click here for details on how to donate.